Iron Man 2 (movie)
Director:- Jon Favreau
Producer:- Kevin Feige
Based on:- Iron Man
by
Starring:-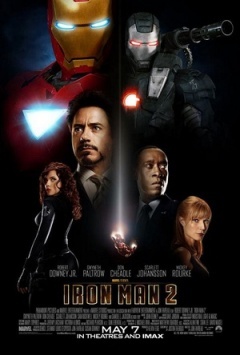 Music by:- John Debney
Edited by:-
Release date:-
Country:- United States
Language:- English
Budget:- $200 Million
Box office:- $623.9 Million
Videos
Story
In Russia, the media covers Tony Stark's disclosure of his identity as Iron Man. Ivan Vanko, whose father Anton Vanko has just died, sees this and begins building a miniature arc reactor similar to Stark's. Six months later, Stark is a superstar and uses his Iron Man suit for peaceful means, resisting government pressure to sell his designs. He reinstitutes the Stark Expo to continue his father Howard's legacy.
The palladium core in the arc reactor that keeps Stark alive and powers the armor is slowly poisoning him, and he cannot find a substitute. Growing increasingly reckless and despondent about his impending death, and choosing not to tell anyone about his condition, Stark appoints his personal assistant Pepper Potts CEO of Stark Industries, and hires Stark employee Natalie Rushman to replace her as his personal assistant. Stark competes in the Monaco Historic Grand Prix, where he is attacked in the middle of the race by Vanko, who wields electrified whips. Stark dons his Mark V armor and defeats Vanko, but the suit is severely damaged. Vanko explains his intention was to prove to the world that Iron Man is not invincible. Impressed by Vanko's performance, Stark's rival, Justin Hammer, fakes Vanko's death while breaking him out of prison and asks him to build a line of armored suits to upstage Stark. During what he believes is his final birthday party, Stark gets drunk while wearing the Mark IV suit. Disgusted, U.S. Air Force Lieutenant Colonel James Rhodes dons Stark's Mark II prototype armor and tries to restrain him. The fight ends in a stalemate, so Rhodes confiscates the Mark II for the U.S. Air Force.
Nick Fury, director of S.H.I.E.L.D., approaches Stark, revealing "Rushman" to be Agent Natasha Romanoff and that Howard Stark was a S.H.I.E.L.D. founder whom Fury knew personally. Fury explains that Vanko's father jointly invented the arc reactor with Stark, but when Anton tried to sell it for profit, Stark had him deported. The Soviets sent Anton to the gulag. Fury gives Stark some of his father's old material; a hidden message in the diorama of the 1974 Stark Expo proves to be a diagram of the structure of a new element. With the aid of his computer J.A.R.V.I.S., Stark synthesizes it. When he learns Vanko is still alive, he places the new element in his arc reactor and ends his palladium dependency.
At the Expo, Hammer unveils Vanko's armored drones, led by Rhodes in a heavily weaponized version of the Mark II armor. Stark arrives in the Mark VI armor to warn Rhodes, but Vanko remotely takes control of both the drones and Rhodes' armor and attacks Iron Man. Hammer is arrested while Romanoff and Stark's bodyguard Happy Hogan go after Vanko at Hammer's factory. Vanko escapes, but Romanoff returns control of the Mark II armor to Rhodes. Stark and Rhodes together defeat Vanko and his drones. Vanko seemingly commits suicide by blowing up his suit.
At a debriefing, Fury informs Stark that because of Stark's difficult personality, S.H.I.E.L.D. intends to use him only as a consultant. Stark and Rhodes receive medals for their heroism.
In a post-credits scene, S.H.I.E.L.D. agent Phil Coulson reports the discovery of a large hammer at the bottom of a crater in a desert in New Mexico.
Cast
The director, Jon Favreau, reprises his role as Happy Hogan, Tony Stark's bodyguard and chauffeur, while Clark Gregg and Leslie Bibb reprise their roles as S.H.I.E.L.D. Agent Phil Coulson and reporter Christine Everhart, respectively. John Slattery appears as Tony's father Howard Stark and Garry Shandling appears as United States Senator Stern, who wants Stark to give Iron Man's armor to the government. Favreau stated that Shandling's character was named after radio personality Howard Stern. Paul Bettanyagain voices Stark's computer, J.A.R.V.I.S. Olivia Munn has a small role as Chess Roberts, a reporter covering the Stark expo, Kate Mara portrays a U.S. Marshal who summons Tony to the government hearing, and Stan Lee appears as himself (but is mistaken for Larry King).
Additionally, news anchor Christiane Amanpour and political commentator Bill O'Reilly play themselves in newscasts. Adam Goldstein appears as himself and the film is dedicated to his memory. Further cameos include Tesla Motors CEO Elon Musk and Oracle Corporation CEO Larry Ellison. Favreau's son Max appears as a child wearing an Iron Man mask who Stark saves from a drone. This was retroactively made the introduction of a young Peter Parker to the MCU, as confirmed in June 2017 by eventual Spider-Man actor Tom Holland, Feige and Spider-Man: Homecoming director Jon Watts.
Music
A soundtrack album featuring AC/DC was released by Columbia Records on April 19, 2010, in at least three different versions: basic, special and deluxe. The basic edition includes the CD; the special edition contains a 15-track CD, a 32-page booklet and a DVD featuring interviews, behind-the-scenes footage, and music videos; and the deluxe includes a reproduction of one of Iron Man's first comic book appearances. Only 2 songs on the soundtrack actually appear in the movie. Although not included on the soundtrack album the film includes songs by The Average White Band, The Clash, Queen, Daft Punk, 2Pac and Beastie Boys.
The film score was released commercially as Iron Man 2: Original Motion Picture Score on July 20, 2010, featuring 25 tracks. John Debney composed the score with Tom Morello.
Box office
Iron Man 2 earned $312.4 million in the United States and Canada, as well as $311.5 million in other territories, for a worldwide total of $623.9 million. Since the film was included in a predetermined legacy distribution deal that was signed before the Walt Disney Company purchased Marvel, Paramount Pictures distributed the film and collected 8% of the box office, while the remaining portion went to Disney.
Iron Man 2 earned $51 million on its opening day in the United States and Canada (including $7.5 million from Thursday previews), for a total weekend gross of $128 million, which was the fifth-highest opening weekend ever, at the time, behind The Dark Knight, Spider-Man 3, The Twilight Saga: New Moon and Pirates of the Caribbean: Dead Man's Chest. It also had the highest opening for a 2010 movie. The film yielded an average of $29,252 per theater. IMAX contributed $9.8 million, which was the highest opening weekend for a 2D IMAX film, surpassing Star Trek's previous record of $8.5 million. Iron Man 2 was the third-highest-grossing film of 2010 in the United States and Canada, behind Toy Story 3 and Alice in Wonderland.
Iron Man 2 launched in six European markets with number-one openings on Wednesday, April 28, 2010, for a total $2.2 million. It earned $100.2 million its first five days from 53 foreign markets for a strong average of $14,814 per site. IMAX Corporation reported grosses of $2.25 million. This surpassed the previous record-holder for an IMAX 2D release, 2009's Transformers: Revenge of the Fallen ($2.1 million). It was the seventh-highest-grossing film of 2010 internationally, behind Toy Story 3, Alice in Wonderland, Harry Potter and the Deathly Hallows – Part 1, Inception, Shrek Forever After, and The Twilight Saga: Eclipse.
Use the Facebook for Comments:-
Please follow and like us: